Last Updated
To facilitate communication within and between interdisciplinary teams, users can easily invite colleagues to join their organization on Hypercare. Please follow the subsequent steps to invite a colleague to the app:
Tap on the icon to access your "Settings".
Tap on "Invite Colleagues". Invitations will include your organization's unique access code.
Users can choose from the following options:

Invite with email or phone number
Invite from phone contacts
Invite with other methods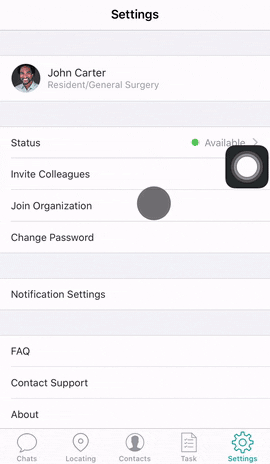 Currently, users are unable to send a direct Hypercare invite to their colleagues. Users can share their organization's unique access code with colleagues who wish to join the team on Hypercare. Users may also contact the organization's administrator or Hypercare Support directly to add a colleague to Hypercare. We are working diligently with the engineering team to improve the invite process on android devices. Stay tuned!
You can invite as many users as you want to the organization using the organization code or by using their organization email address.

By connecting to an organization, you are able to become authorized to communicate to other members of the same organization.

The organizational code can be sent to your colleagues and they can sign up by visiting How to set up an account.

A walk through of the invitation is shown below.